Be Inspired by Attractions in Asia
Taking time each day to appreciate the good things in your life can help you find inspiration and motivation. Try something new, whether it's a new hobby, a new recipe, or a new destination to visit.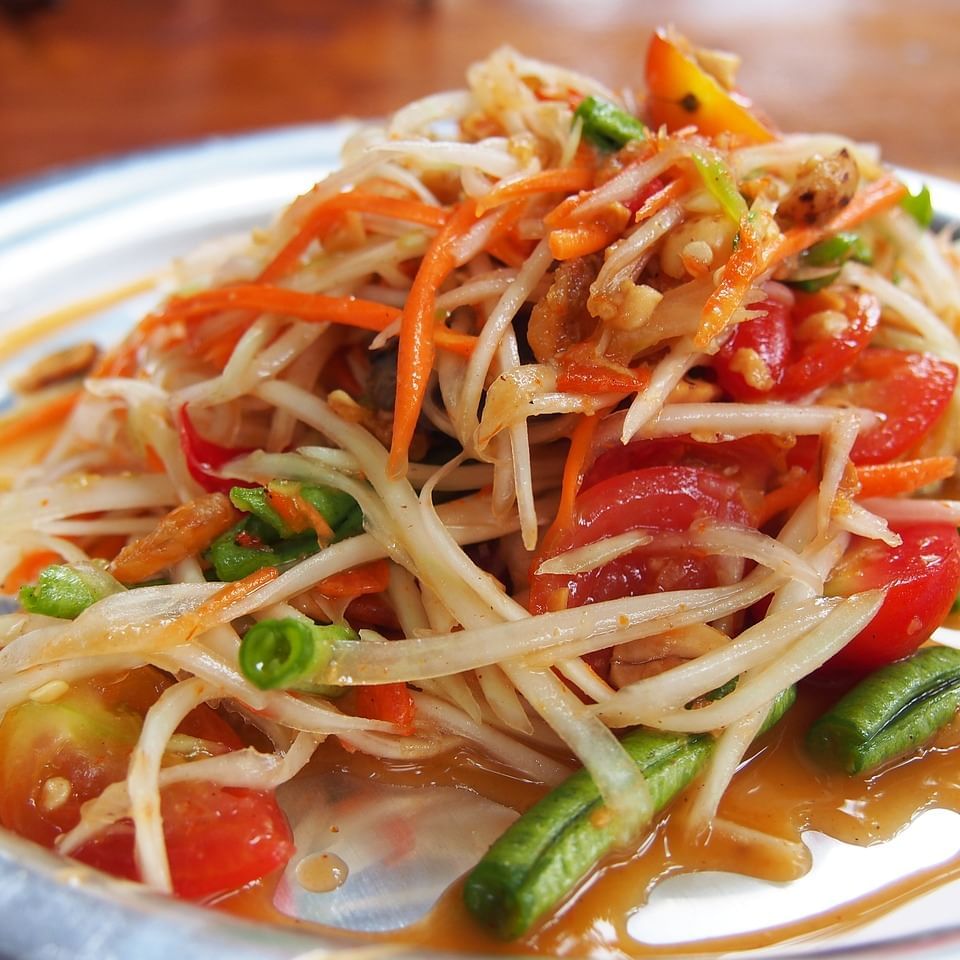 Som Tum
Som tum is a popular dish from Thailand that consists of a spicy and tangy salad made with green papaya. The dish is known for its complex flavours and textures, and it has become a staple of Thai cuisine in Thailand and worldwide.
The origins of som tum can be traced back to the northeastern region of Thailand, also known as Isan. This region is known for its distinctive cuisine, bold flavours and fresh ingredients.
Som tum is believed to have originated among the Lao people who lived in Isan. It was later adopted by the Thai people living in the region. The dish quickly became popular throughout Thailand and is now considered one of the country's national dishes.
Traditionally, som tum is made with shredded green papaya, chilli peppers, garlic, fish sauce, lime juice, and palm sugar. Other ingredients, such as tomatoes, green beans, and peanuts, can also be added. The ingredients are mixed together in a mortar and pestle, which helps to release the flavours and textures of the ingredients.
Today, som tum can be found in Thai restaurants worldwide. It has also been adapted to suit different tastes and dietary requirements. However, the traditional version of som tum remains a beloved and iconic dish in Thailand. It continues to be an essential part of the country's culinary heritage.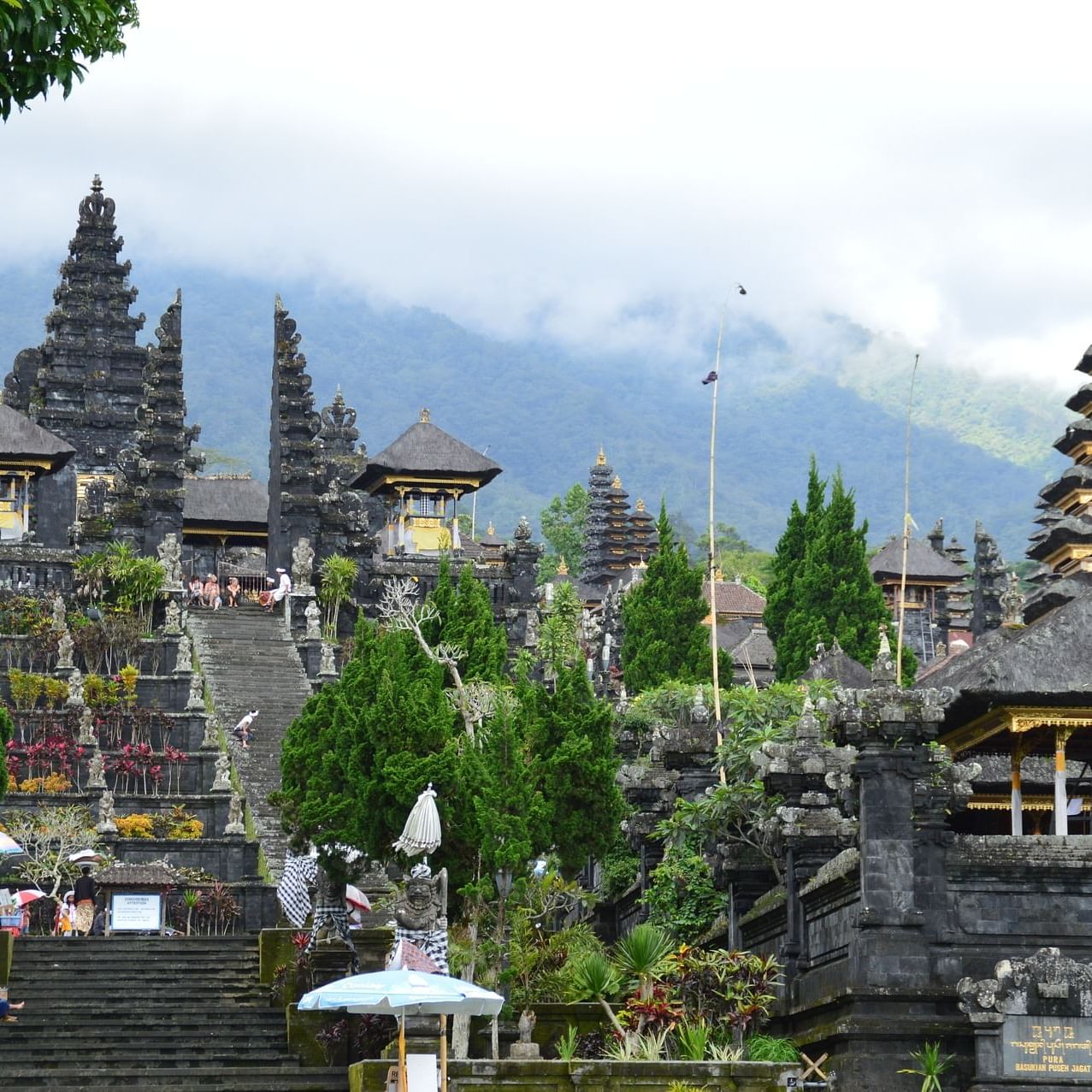 Besakih Temple
Besakih Temple, also known as Pura Besakih, is a significant Hindu temple complex located in the village of Besakih on the slopes of Mount Agung in Bali, Indonesia. It is often called the "Mother Temple of Bali" and is the island's largest and most important Hindu temple.

The Balinese consider the Besakih Temple a holy site with great spiritual and cultural significance. The vast temple complex covers a large area and over 80 individual temples. These temples are dedicated to different gods and deities of the Hindu pantheon, with the main temple dedicated to the Trimurti—the three supreme gods of Brahma, Vishnu, and Shiva.

The origins of Besakih Temple can be traced back to ancient times, and it has undergone various renovations and expansions throughout history. The temple's architecture blends different styles, reflecting influences from old Javanese and Balinese architectural traditions.

Besakih Temple is strategically located on the slopes of Mount Agung, the highest volcano in Bali and is considered a sacred mountain. The breathtaking backdrop of the towering volcano adds to the temple's mystique and spiritual ambience.

Visitors to Besakih Temple can explore its various courtyards, shrines, and pavilions. The complex is built on different levels, with the highest and most crucial sanctuary on the most elevated terrace. Visitors can enjoy panoramic views of the surrounding countryside and the neighbouring Mount Agung.

It is important to note that Besakih Temple is an active place of worship, and various religious ceremonies and rituals occur throughout the year. Balinese Hindu festivals and celebrations, such as Galungan and Kuningan, are particularly vibrant at the temple.

When visiting Besakih Temple, it is advisable to dress modestly and respectfully. Sarongs and sashes are available for rent at the temple entrance for those who need them. Hiring a local guide who can provide insights into the temple's history, symbolism, and religious practices is also recommended.

Overall, Besakih Temple is a cultural and spiritual gem of Bali, attracting local devotees and tourists from around the world who experience its rich heritage and immerse themselves in the unique Balinese Hindu traditions.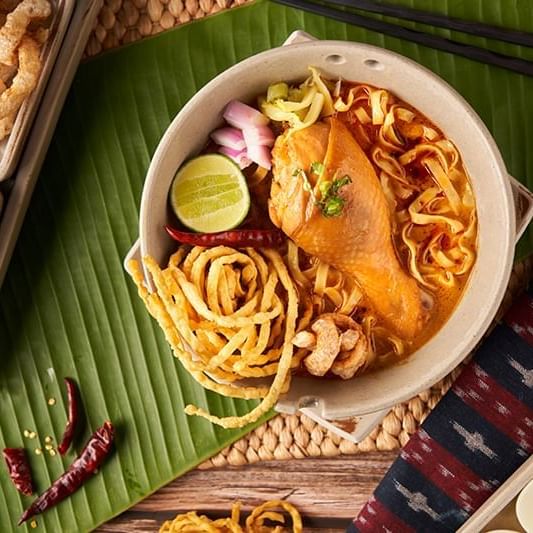 Khao Soi
Try a new cuisine: If you always stick to the same type of food, switch it up by trying new cuisine. Whether it's Thai, Indian, Ethiopian or Korean, there are many delicious flavours and ingredients to explore. One dish that we would like to recommend while you are in Thailand is 'Khao Soi'. Khao Soi is a popular noodle dish from northern Thailand, especially in Chiang Mai province. The origins of khao soi are not entirely clear, but it is believed to have Burmese and/or Chinese influences.
Some historians believe that khao soi originated in Myanmar and was brought to Thailand by Chinese immigrants. The dish may have been adapted to include local ingredients and flavours over time. Khao soi is traditionally made with egg noodles and a curry broth made from coconut milk, curry paste, and a blend of spices. It is typically served with chicken or beef and garnished with crispy fried noodles, pickled cabbage, red onion, lime, and fresh herbs.
Today, khao soi is a popular street food in northern Thailand, served in many Thai restaurants worldwide and at our U Hotels & Resorts restaurants. It has become a beloved dish synonymous with north Thailand's culture and cuisine.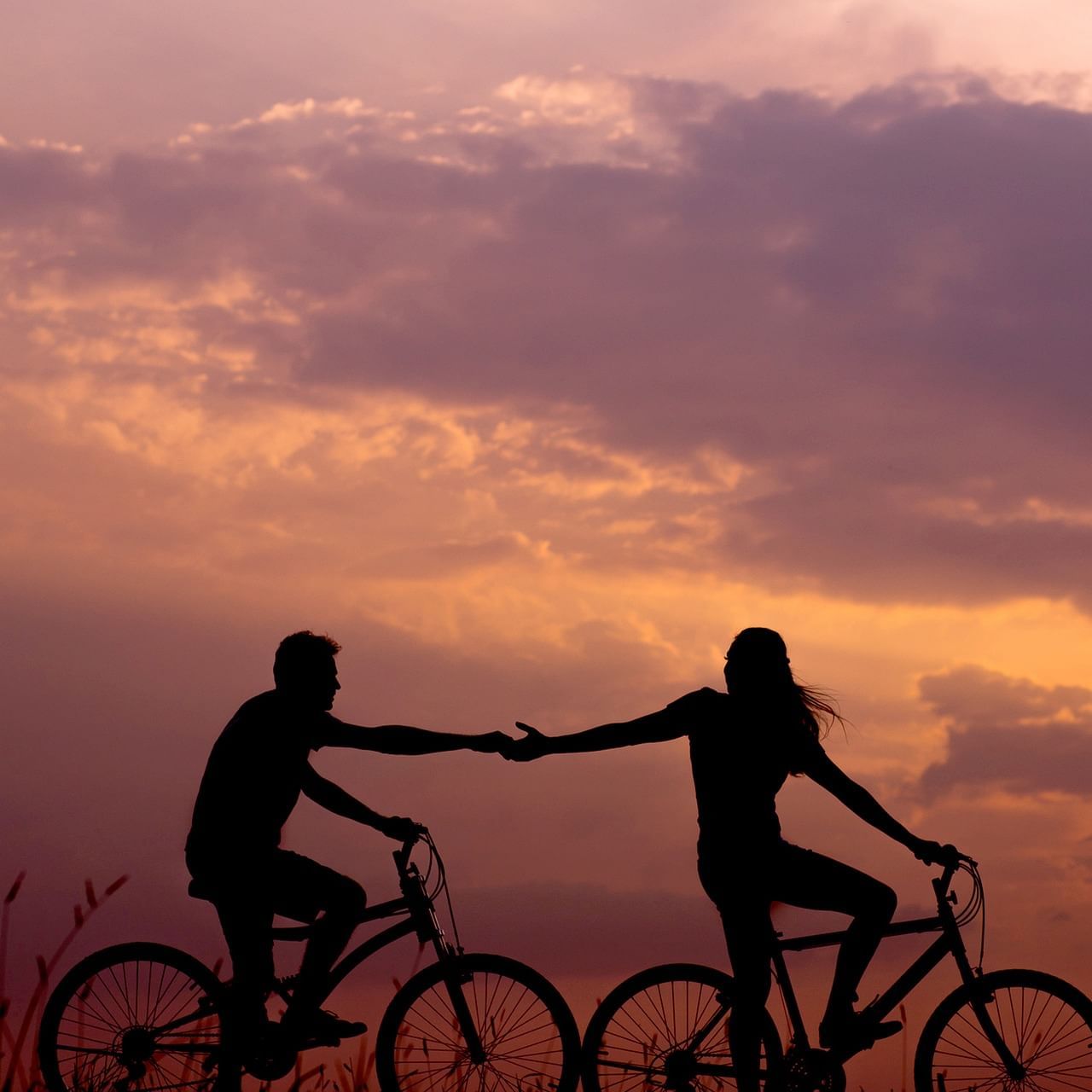 Biking in Bangkok
Biking in Bangkok can be a fun and exciting way to explore the city and experience its vibrant culture. Here are some suggestions for a bike adventure in Bangkok.
Lumpini Park: This large park in the heart of Bangkok offers a serene oasis amid the bustling city. There are several bike paths to explore and beautiful gardens, lakes, and sculptures.
Chinatown: Bangkok's Chinatown is a vibrant and colourful district filled with markets, temples, and delicious street food. Rent a bike and explore the narrow alleyways and bustling streets.
Bangkok's canals: Bangkok was once known as the "Venice of the East" due to its intricate network of canals. Take a bike tour, explore the canals known as Klongs, and discover the hidden neighbourhoods and markets along the waterways.
Bang Krachao: This lush green island across the Chao Phraya River from central Bangkok is a hidden gem and a perfect destination for a bike adventure. Explore the quiet roads and bike paths, visit local temples, and enjoy the peaceful atmosphere away from the hustle and bustle of the city.
The Old City: The historic Old City is home to many of Bangkok's most famous temples and landmarks, including the Grand Palace and Wat Phra Kaew. Rent a bike and explore this fascinating district's narrow streets and alleyways.
You can also ask our host at the hotel for more information about the interested route to take or help arrange an excursion tour for you.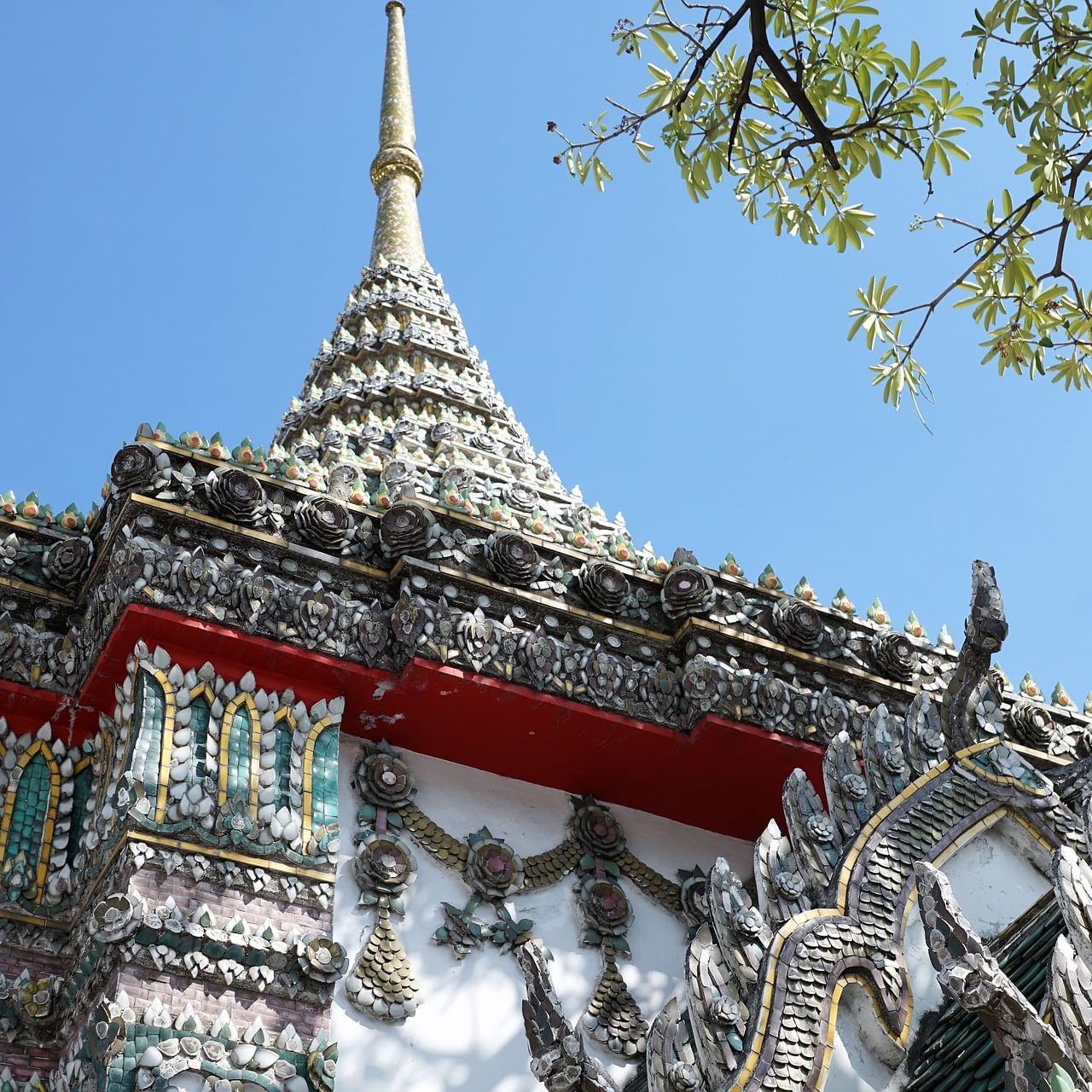 Thailand Architectural Attractions
Thailand is rich in history and culture, and its architecture reflects this diversity. Here are some of the top architectural attractions to visit in Thailand:

Grand Palace and Wat Phra Kaew: Located in the heart of Bangkok, the Grand Palace and Wat Phra Kaew are two of Thailand's most iconic architectural attractions. The complex features intricate carvings, gold-plated structures, and beautiful gardens.
Wat Arun: Also known as the Temple of Dawn, Wat Arun is located on Bangkok's west bank of the Chao Phraya River. Its stunning Khmer-style spires are decorated with colourful glass and Chinese porcelain. The temple is magnificent when illuminated at night.
Wat Phra That Doi Suthep: This temple is located on a hill overlooking Chiang Mai and is one of northern Thailand's most important religious sites. The temple's gold-plated chedi is a stunning example of Lanna-style architecture.
Jim Thompson House: This traditional Thai-style teak house in Bangkok was the home of American entrepreneur and art collector Jim Thompson. Today, it is a museum that showcases traditional Thai architecture and art.
Ancient City (Muang Boran): Located in Samut Prakan province just outside of Bangkok, the Ancient City is a massive park with replicas of Thailand's most famous landmarks and historical buildings. It's a great way to see the country's diverse architecture and learn about its history.

These are just a few of the many architectural attractions to explore in Thailand. Whether you're interested in traditional Thai architecture or more modern designs, Thailand has something for everyone.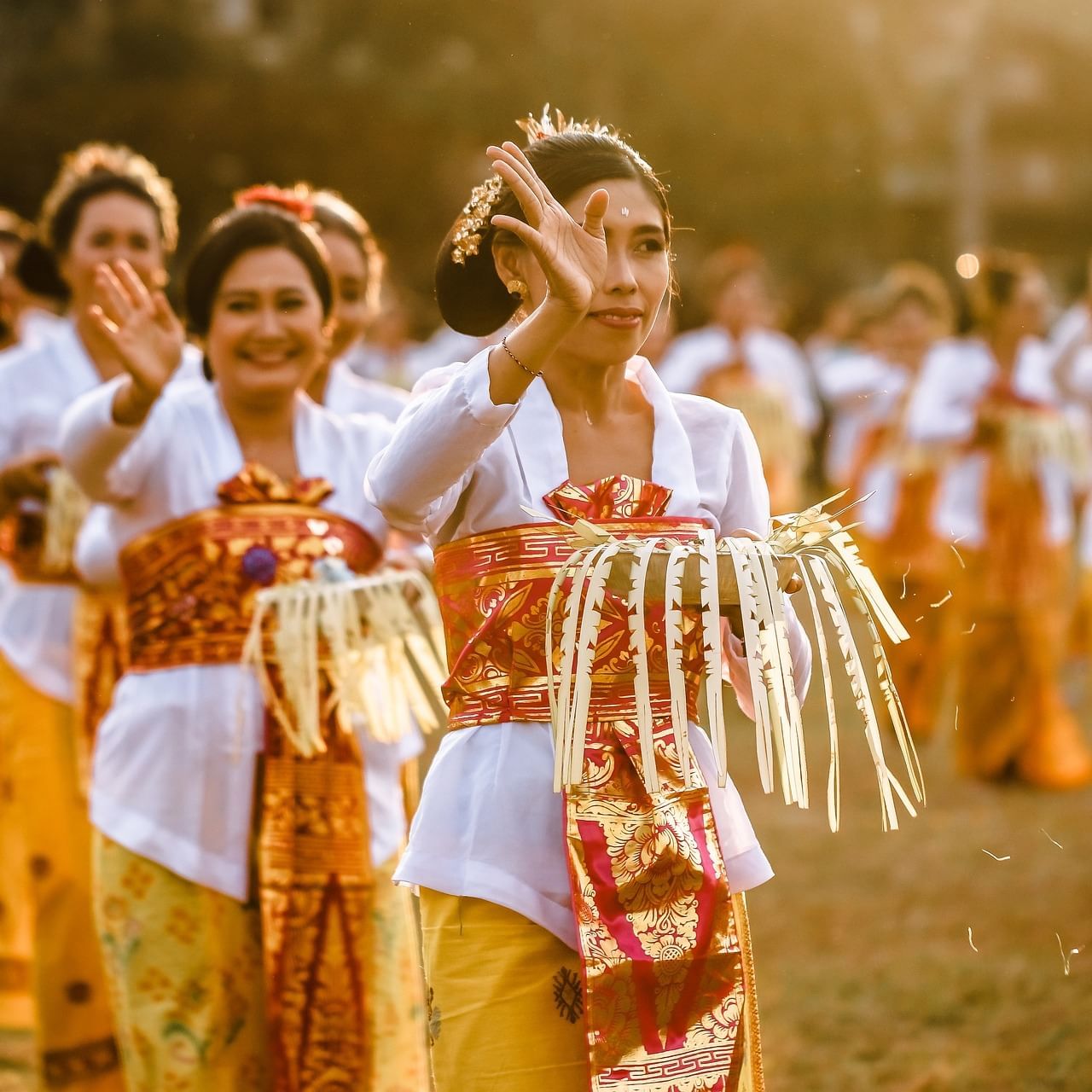 Bali Cultural Heritage
Bali, Indonesia, is a popular tourist destination with a rich cultural heritage and a range of unique experiences for visitors. Here are some fantastic things to do while in Bali:

Attend a traditional Balinese ceremony or festival - Bali is known for its colourful ceremonies and festivals, which offer a glimpse into the island's unique culture and traditions. Visitors can attend events such as the annual Bali Arts Festival or witness a traditional Balinese wedding ceremony.
Take a cooking class - Bali has various unique dishes and cooking techniques. Visitors can learn how to prepare traditional Balinese dishes by taking a cooking class with a local chef.
Visit a coffee plantation - Bali is known for its high-quality coffee. Visitors can tour local coffee plantations to learn about coffee-making and sample some of Bali's famous coffee.
Experience a traditional Balinese spa treatment - Bali is home to many conventional spas and wellness centres that offer unique treatments such as Balinese massage, herbal baths, and meditation sessions.
Go on a rice terrace trek - Bali has stunning rice terraces. Visitors can explore these natural wonders by guided excursion with a local tour operator.
Take a traditional dance class - Bali is known for its vibrant traditional dance performances. Visitors can learn how to perform these dances by taking a class with a local instructor.
Visit a batik workshop - Batik is a traditional fabric-making technique unique to Indonesia. Visitors can tour local batik workshops to learn about the process and create their own batik designs.

These are just a few of the many unique experiences that Bali has to offer. Bali will indeed provide something memorable and amazing if you're interested in culture, food, or outdoor activities. Whether you're interested in beaches, culture, or outdoor activities, Bali has something to offer every type of traveller.