GranMonte Vineyard and Winery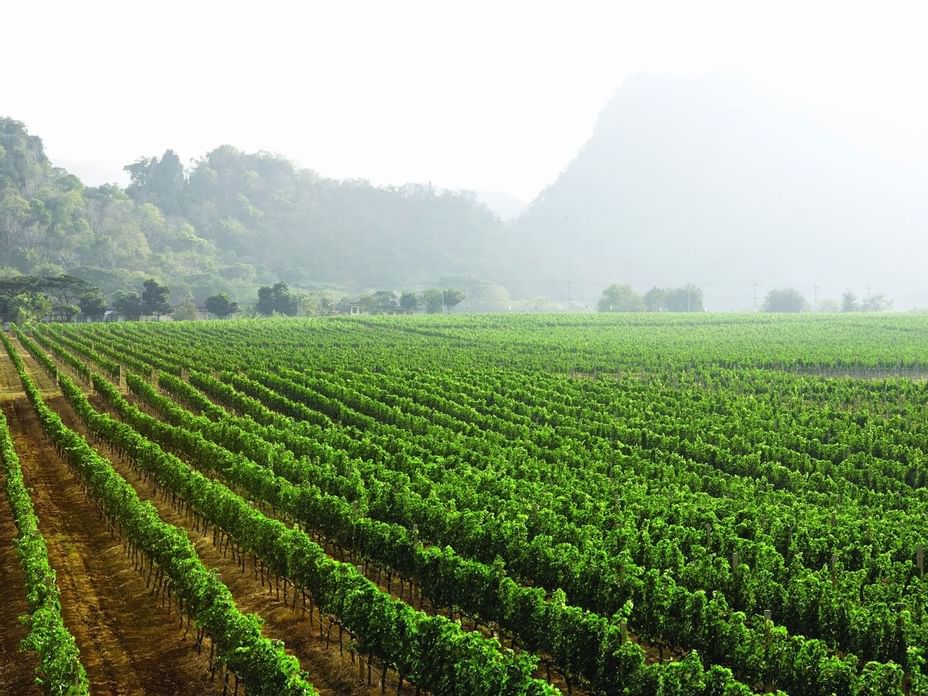 GranMonte Estate is uniquely located in Asoke Valley, Khao Yai and conveniently lies adjacent to Khao Yai National Park. Asoke Valley is known in Thailand for its beautiful yellow blossoms, which are special to the region of Khao Yai. The serene atmosphere and beautiful natural surroundings of Asoke Valley provide the perfect setting for the GranMonte Estate. Also, the grandeur of Khao Yai mountain ranges has inspired the name.
At 350 metres above sea level and in a valley with a total area of 100 rai (approximately 40 acres), GranMonte has the ideal microclimate for growing high-quality grapes for winemaking in this wet tropical region. The wine grapes produced on our arable land are of different varieties, including Syrah, Cabernet Sauvignon, Chenin Blanc, Viognier, Semillon, Verdelho, Durif and Grenache. Our table grapes come in many varieties with or without seeds such as Muscat of Alexandria and Hamburg, Thomson, Perlette and Maroo seedless grapes.
GranMonte also earns the reputation of producing Thai wines of only the best quality and class. There are a restaurant, produce shop and wine cellar that visitors can explore.
Opening hours: 08:00 – 17:00 Daily
Location: Pakchong, foot of Khao Yai National Park
33 minutes drive from hotel