Erawan National Park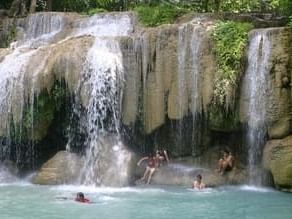 Housing one of the most famous waterfalls in the country, Erawan National Park boasts stunning scenery where over 80% is covered in mixed deciduous, dipterocarps and evergreen forests. The scenic hiking trails crisscross through to the park's centre piece attraction: the seven-tiered Erawan Waterfall, which flows down 1,500 metres in a series of beautiful cascades, interspersed with emerald water pools.
The hike through the first three levels is fairly easy but from the fourth level onwards, it can be challenging without proper hiking gear. What awaits you beyond level four, though, is definitely worth the effort. Expect to spend three – four hours hiking to the seventh level and back down. With several caves and a diverse array of flora and fauna, you can easily spend an entire day here.
Location: On Highway 3199, about one hour northwest of Kanchanaburi City
How to get there: Buy an organised tour or rent a motorcycle from the city area