Nong Nooch Tropical Garden and Cultural Village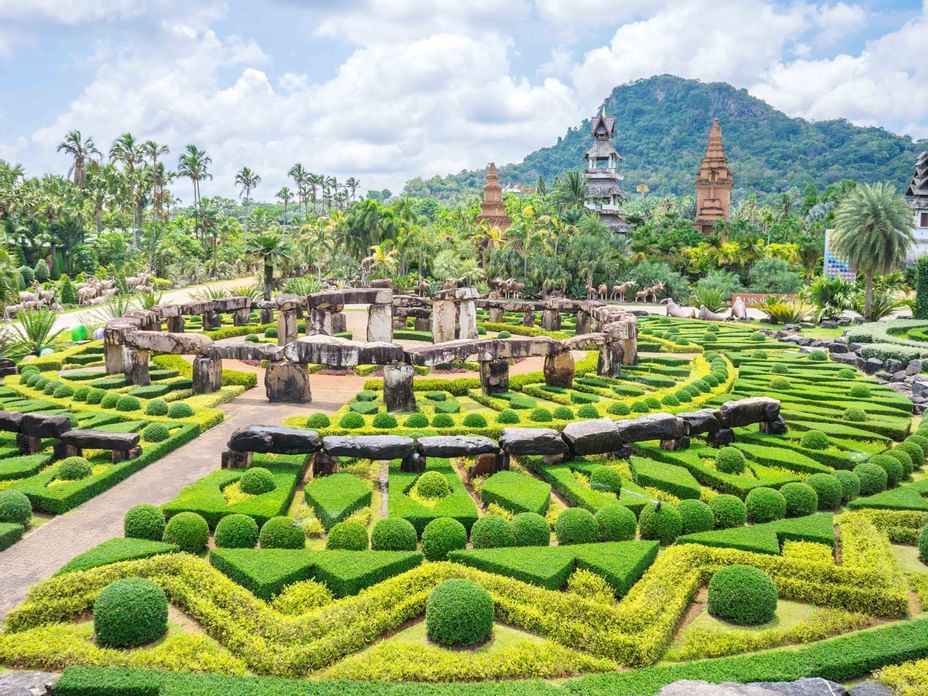 Nong Nooch Garden is set in a 2.4sq.km. beautifully landscaped park and can easily make an all-day trip. The entire area is more like a theme park, with daily cultural shows, restaurants and accommodation as well as a vast area showcasing individually themed gardens. A leisurely stroll through the botanical park is like taking a journey around the world, through its many famous gardens, whether 17th-century French garden, Stonehenge, or European Renaissance garden. Equally fascinating are species-specific gardens, such as cactus and succulent plants, orchid nurseries, tropical palm gardens, bonsai and topiary garden.
Due to its vast landscape, it's unlikely that you will hit all the attractions within Nong Nooch Garden by walking alone. It's a good idea to rent a bicycle and explore the garden at a leisurely pace. Don't miss the orchid nurseries which house more than 670 native species and hybrids all in one place – the largest collection in the country. Showcasing exotic-shaped leaves and blossoms, the cactus and succulent plants garden is both educational and eye-opening.
Meanwhile, the French garden, with its symmetrical design and perfectly manicured shrubs modeled after the gardens of Versailles, is another big highlight. An interesting feature is the skywalk, a shaded, 1.1km elevated walkway that takes you through the topiary garden, European garden, tropical palm garden, butterfly hill and Stonehenge garden. Apart from the botanical park, Nong Nooch Garden features daily shows at the Thai Cultural Hall. Enjoy the spectacle of sights and sounds in a classical Thai dance, Muay Thai or ancient drum performance, as well as the elephant talent shows. Other activities include paddle boats, elephant rides and cycling.
Opening Hours: 09:00 – 17:00
Location: Km. 163, Sukhumvit Road (Highway 3)
Tel: +66 (0)38 429 321, +66 (0)38 425 748