Pattaya Floating Market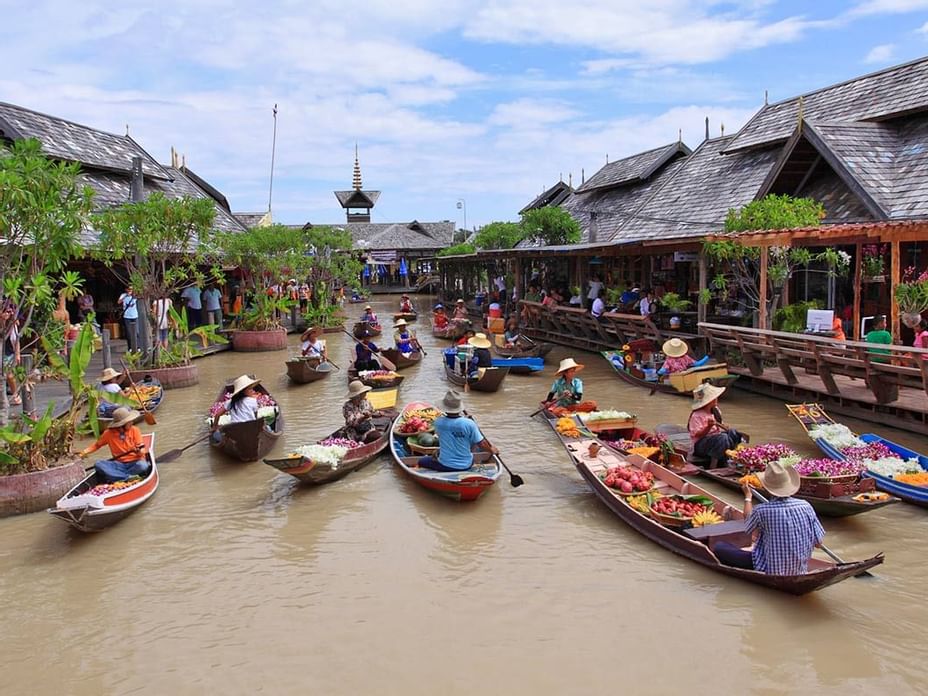 Covering an area of 100,000sqm, the Four Regions Floating Market is separated into four sections – each representing and selling items from the four major parts of Thailand (north, northeast, central and south). Expect to find many eateries, fruit stalls, souvenir shops and some art galleries. There is also a cultural show every afternoon. The 350 million baht market has over 114 shops and water vendors selling authentic Thai food, desserts and specialties from all over the kingdom. For a floating market experience, hire a man-powered boat to get around and discover the richness of the surrounding Thai architecture and riverside life. Typically, the boat is big enough for four people and can be hired for a small fee for around 30 minutes.
A walk through the hundreds of wooden houses built in the different styles of the four regions is pleasant and fun. Food happens to be the main draw here. There are plenty of authentic Thai dishes and classic desserts to sample. Highlights include noodle soups, pad thai (stir-fried rice noodles), kanom jean (rice vermicelli) with different kinds of curries, ka nom krok (coconut pancake), foi thong (golden threads), thong yip (sweet egg yolk) and more. Postcards, Thai handicrafts and some ancient toys made from wood or die-cast metal are widely available within the market, too.
Besides food stalls and shops, the market also features other educational and entertaining attractions. The wood-carving museum displays beautiful carved images. If photography is one of your hobbies, don't miss the sunflower and agricultural demonstration fields. There is also a daily free show featuring four cultural performances. The Four Regions Floating Market Pattaya is a good place to get away from the chaos that is Pattaya and is a must-do for those who have yet to visit a Thai floating market. The market is located on Sukhumvit Road, about two kilometres past Pattaya Underwater World, on the way to Sattahip.
Opening Hours: 10:00 – 23:00
Location: 451/304 Moo 12, Sukhumvit Road Pattaya