Ur Chef : Chef Amerigo Sesti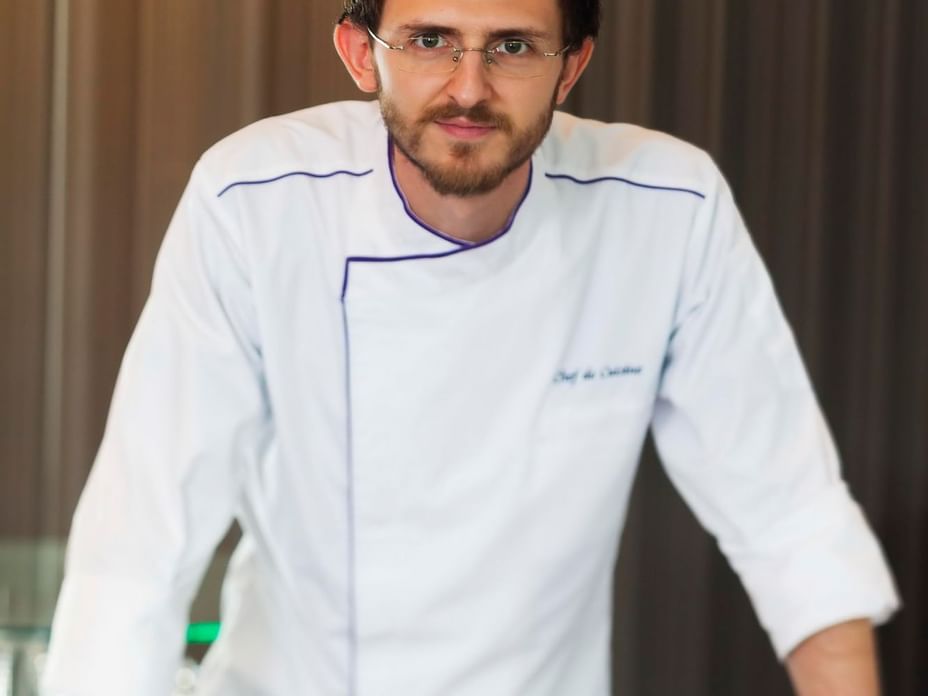 Head Chef Amerigo Tito Sesti
J'AIME by Jean-Michel Lorain
Originally from Bergamo Italy, Chef Amerigo developed a passion for the culinary world at an early age. He graduated in Tourism and Gastronomy from the Lycée d'Hotellerie de Gascogne, Talence in 2006 and the prestigious catering school of San Pellegrino, Terme in 2007 where he developed his technical training for professional kitchens. He also passed a training program under pastry chef and chocolate master Frederique Bourse.
He started his career at exclusive restaurants and 5 star hotels such as the Michelin-starred La Brughiera in Italy and Bocconi in the Amigo Hotel, Brussels.
Over the years, Amerigo has worked under many influential leaders of the French culinary profession who helped shape his style and depth of knowledge. After moving to England he was appointed Chef Cook for Alain Roux, celebrated chef and owner of the Waterside Inn Berkshire on Thames, the soul of French gastronomy in the United Kingdom for more than 40 years. He had the chance to hone his skills under the exacting supervision and attention to detail of true master and mentor to many, Head Chef Fabrice Uhryn.
Following this he had the ideal opportunity to work in Asia for the first time with Michel Roux on a gastronomic promotion at Le Normandie at the Mandarin Oriental Bangkok in 2011.
Landing in the New World brought more exciting opportunities as he spent a year refining his culinary vision and absorbing the true sense of the art of hospitality at the very unique Relais & Chateaux - The Inn at Little Washington in the state of Virginia under the wing of legendary chef and owner Patrick O'Connell.
In addition to cooking he has a passion for the most disparate forms of art and possesses a keen interest in music, cinema, literature, painting and photography.
Prior to his current position as Head Chef at J'AIME by Jean-Michel Lorain in U Sathorn Bangkok he worked with Jean-Michel at the renowned 3 Michelin star Côte Saint Jacques in Burgundy, France.
-End-